At 'Aadi Mahotsav', tribal artists try to regain livelihood lost during lockdown
Ambika Pandit | TNN | Feb 15, 2021, 04:38 IST
5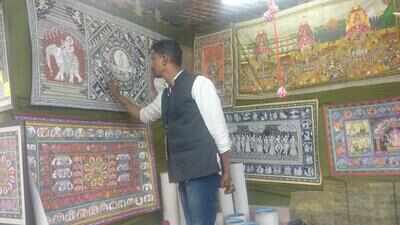 New Delhi: The famous 'Pattachitra' paintings depicting mythological narratives and folklore on cloth scrolls and palm leaves made by artists hailing from Odisha's heritage crafts village Raghurajpur have been on display and sale at Dilli Haat for a fortnight now. Two men, Prakash Mohapatra and Anil Swain, can be seen putting finishing touches to some art work even as they patiently respond to queries of eager customers.
Every sale matters and in those piles of art and craft rest aspirations of artists from their village whose livelihood was severely hit during the lockdown and they are still trying to recover. Sales have been brisk and have made these men hopeful that things may return to normal in the months ahead.
Over 10 months after the pandemic induced lockdown was enforced, such stories of survival dominate the spirit of those steering the colourful displays for the last 14 days at 'Aadi Mahotsav' in Dilli Haat where since February 1, 225 stalls have been showcasing tribal art, forest produce and cuisine rooted in nature. Data collected till Saturday shows that more and more people are stepping out. According to Tribal Cooperative Marketing Development Federation of the ministry of tribal affairs, over 3.5 lakh people have visited Aadi Mahotsav over the last fortnight and the stalls have logged sales of over Rs 3.5 crore.
With revival of tourism a work in progress, Odisha's Raghurajpur village with 120-odd homes is a classic example of artists who are still to return to their pre-pandemic state of livelihood. Mohapatra said that with very few buyers, he and others in his neighbourhood were forced to take up wage-based work like wall paintings at marriage functions or at temples to make a living. During a visit to Raghurajpur in January, the distress was evident as artists told TOI how their incomes diminished to less than half of what they were earning before the lockdown.